Munich Re – Case Study
FACING THE ELEMENTS: Building Business Resilience in a Changing Climate
"Climate change affects the fundamentals of doing business, both yours and ours."

– Prof. Dr. Peter Hoeppe, Head of Munich Re's Geo Risks Research/Corporate Climate Centre. Munich Re (2009) Climate Change, Climate Risk, Climate Chance
AT A GLANCE //

Location:

Munich, Germany

Industry:

Finance and insurance

Employees (2010):

47,000

Revenue (2010):

C$63.5 billion

Gross premiums written (2010):

C$62 billion

Key adaptation
drivers

Risk management and insurance pricing models

Responsibility to help vulnerable populations and countries adapt

Adaptation
to climate change

Adoption of corporate adaptation strategy and establishment of a Climate Centre

Data collection and research

Development of new insurance products

Business Benefits

Improved risk management

New business opportunities identified

Business Challenges

Short-termism in insurance pricing and absence of regulation

Lack of normalised data on weather-related loss
---
COMPANY OVERVIEW //
MUNICH, GERMANY
Munich Re is a leading global reinsurance group. In 2010, it underwrote the equivalent of C$62 billion in annual premiums. The group's services range from traditional primary and reinsurance, comprehensive services and consulting, to complex risk solutions, covering the entire value chain of the global insurance industry in life and non-life business.
Munich Re's primary insurance operations are mainly concentrated in the ERGO Insurance Group. Furthermore the company offers healthcare solutions under the brand Munich Health. The group's worldwide assets are managed by MEAG (Munich Ergo Asset Management). Munich Re operates extensively in Canada, offering reinsurance cover to Canadian primary insurers as well as to industrial clients.
INSURANCE IN A CHANGING CLIMATE
Re-insurers and insurers are directly affected by climate change since they pay the bill for insured losses caused by weather-related perils (e.g. floods, storms, wildfires). As part of Munich Re's core business, they have developed detailed knowledge of the risks associated with climate change.
Munich Re's Geo Risks Research unit reports a rising trend in weather-related losses, partly due to climate change: insured losses due to weather catastrophes have increased significantly worldwide between 1980 and 2010 (Figure 5). This trend cannot be explained solely by economic growth and increased population density in areas exposed to extreme weather. The number of storms, waterrelated perils (including floods) and extreme weather events like heat waves, droughts and wildfires has increased considerably in recent years (Figure 6).
FIGURE 5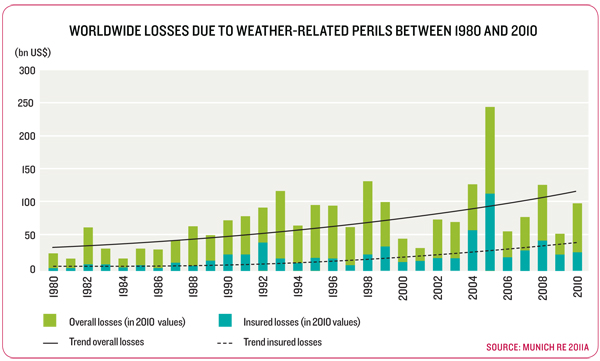 FIGURE 6

Though it is not possible to attribute any single weather event to climate change, research has shown that climate change has already increased the likelihood of some extreme events, such as heat waves and heavy downpours.65
More extreme weather is costly for re-insurers. Hurricane Katrina in 2005 was the single most expensive weather catastrophe in history.66 In the first nine months of 2011 storm damages in the United States totalled US$32.6 billion in insured losses. This was compounded by the cost of a record drought in southern states and flooding on the Mississippi River.
Munich Re has identified the U.S. and Europe as 'hotspots', as these are regions where high market penetration of insurance products coincides with high exposure to climate risk. The company does not consider Canada to be among the countries most vulnerable to climate change, as most of its population is located in moderate climate zones, and warming could represent an opportunity rather than a risk for some activities in the country. However, the Canadian insurance sector is somewhat exposed to a number of risks, namely more frequent and more intense precipitation events, increased storminess, higher flood risk, more heat waves and accelerated degradation of permafrost. Northern Canada is particularly vulnerable to climate change because of the presence of permafrost, and because this region is projected to warm faster than the rest of Canada. Finally, as asset managers, Canadian insurance companies will be affected by the financial repercussions of overseas climate change impacts.
ACTIONS TO BUILD CLIMATE CHANGE RESILIENCE
Munich Re recognizes that a changing climate will affect its core business by increasing weatherrelated loss claims. Furthermore, the reinsurer believes that the insurance industry as a whole should support vulnerable populations and countries adapt to the consequences of climate change. Munich Re has helped to embed climate change-related activities within the company's operations by assigning responsibility for climate risk management at the Board of Management level. Through the creation of the Corporate Climate Centre, the reinsurer collects information on climate change, initiates projects, monitors progress on the company's climate change strategy and identifies new business opportunities. Munich Re also advocates taking a long view in setting insurance premiums.
CORPORATE CLIMATE ADAPTATION STRATEGY
In 2007, Munich Re adopted a corporate climate change strategy founded on the following three pillars:
// Risk assessment: Munich Re has committed to investment in research on climate change impacts and climate risk management measures. The reinsurer also takes into account observed and projected changes in the frequency and intensity of extreme weather events when underwriting certain risks. For example, Munich Re's new risk models for hurricanes in the U.S. now include the potential for increased sea-surface temperature due to changing climate conditions.
// Business opportunities: Munich Re wants to respond to the growing demand for climate change risk transfer solutions with new insurance products. For example, it now offers insurance cover to photovoltaic electricity producers, which covers loss of revenue in the event of lower solar radiation levels.
// Asset management: Munich Re has more than C$270 billion of assets under management. The third pillar in its climate change strategy describes the company's efforts to consider climate change risks as part of investment decision-making.
Munich Re has had concerns about the financial implications of climate change for many years – the first reference to climate change impacts in Munich Re's publications can be traced to the early 1970s. In an effort to document economic losses due to natural perils, the reinsurer maintains a comprehensive database called NatCatSERVICE. The database currently contains around 29,000 records, most of which pertain to extreme weather-related events. NatCatSERVICE was originally developed to help the company calculate insurance premiums. Today, Munich Re recognizes the importance of raising awareness of changing climate risks among the financial industry, and the company uses NatCatSERVICE to communicate with clients and for their own risk models. The company also shares NatCatSERVICE with governments and universities for research purposes.
Through its Munich Climate Insurance Initiative (MCII), Munich Re is involved in the United Nations Framework Convention on Climate Change (UNFCCC) process. Since 2005, the MCII has successfully petitioned for insurance to be included as a key climate change response in official UNFCCC negotiations.
Munich Re is also aiming to achieve carbon neutrality. It is hoped that the reinsurance group will be carbon neutral by 2012 and the whole Group by 2015.
BENEFITS AND/OR CHALLENGES
Thanks to its work on climate change impacts, Munich Re has confidence in its understanding of the business risks of a changing climate. Furthermore, through the process of assessing and managing climate risk, the company has identified business opportunities.
Munich Re is well aware of the challenges that re-insurers and insurers face in integrating climate risk management into their operations. Firstly, the industry has the advantage of reviewing premiums on a yearly basis so that insurance premiums always tend to reflect current loss risk. As a result, there is little incentive for underwriters to use long-term climate change projections. However, Munich Re pursues a more long-term approach to underwriting. By integrating information on recent climatic trends and future projections, insurers can help to avoid client discontent associated with abrupt premium increases.
Secondly, a number of factors influence weather-related losses (natural climate variability, increase in wealth, extent of insurance market penetration, siting decisions, etc.) and it is difficult to identify with confidence the 'climate change signal'. Munich Re is working toward normalizing natural catastrophe data, which will help to identify the financial effect of increased temperatures and other climatic changes.
PERSPECTIVES ON GOVERNMENT ROLES
Munich Re feels that the government has an important role to play in facilitating climate change adaptation by business. Government can raise awareness on climate change and the need to adapt. In countries like the U.S., the U.K. and Germany, dedicated groups are currently funded by government to develop freely available, high quality climate change data and risk management methods, tools, and guidance.n
Government can also support the development of insurance schemes to cover vulnerable groups against weather-related risks. Munich Re is part of a strategic alliance with a German governmental organization (GIZ) that offers insurance services to protect cooperatives in the Philippines against weather-related perils.
Finally, legislation or regulation is needed to make climate risk management compulsory for certain businesses or industries. For example, in 2009 the U.S. National Association of Insurance Commissioners adopted a climate change risk disclosure standard for insurers, which was made compulsory in certain states.
---
[n]
The National and Regional Climatic Data Centers (U.S.), the U.K. Climate Impacts Programme (U.K.) and the Climate Service Center (Germany),
respectively.
[65]
Min et al. 2011; Stott, Stone, and Allen 2004
[66]
Munich Re 2011b