5.0 Priority Areas for Government of Canada Action
Canada's Opportunity: Adopting Life Cycle Approaches for Sustainable Development
THIS CHAPTER EXPLORES THE CONDITIONS FOR SUCCESSFUL ADOPTION OF LIFE CYCLE APPROACHES BY THE PRIVATE AND PUBLIC SECTORS IN CANADA. SOME CHALLENGES TO THIS ADOPTION IDENTIFIED THROUGH THE NRT'S RESEARCH AND CONVENING ARE SUMMARIZED IN APPENDIX 4. THIS CHAPTER ALSO SETS OUT PRIORITY ACTIONS THAT THE GOVERNMENT OF CANADA COULD APPLY TO ENSURE THAT THE RIGHT CONDITIONS ARE IN PLACE FOR CANADA TO ADVANCE ITS USE OF LIFE CYCLE APPROACHES.
5.1

CONDITIONS FOR THE SUCCESSFUL IMPLEMENTATION OF LIFE CYCLE APPROACHES

Four key conditions are needed for the successful uptake and implementation of Life Cycle Approaches in both the public and private sectors. They are (1) awareness of benefits, (2) capacity and expertise, (3) life cycle data and information, and (4) common standards. Within the private sector, small and medium enterprises (SMEs) often need more assistance to attain these conditions than larger companies.
AWARENESS OF BENEFITS
Companies and governments are not yet fully aware of the benefits, both economic and environmental, that can result from the application of Life Cycle Approaches. The lack of awareness of a business case is the most common obstacle. Without a clear and convincing business case, it is difficult to encourage the adoption of these approaches in both the public and private sectors' decision making.
Even if an awareness of potential benefits exists, the lack of an internal champion at an influential level can prevent the adoption of Life Cycle Approaches. In the private sector, support from the Chief Executive Officer (CEO) or Chief Financial Officer (CFO) can help realize the benefits of this approach. Deputy Ministers (DMs) and Assistant Deputy Ministers (ADMs) can similarly help champion the adoption of Life Cycle Approaches in departments and agencies. Central decision-making processes also need to be more fully aware of and engaged in the considerations of Life Cycle Approaches in interdepartmental and Cabinet deliberations to make this a "whole of government" priority.
In the public sector, there is a bias towards low up-front capital costs for investments because of the desire to show balanced budgets every year. When traditional cost-benefit analysis is applied, the option that is less expensive over the life cycle may not be appealing if it requires higher up-front capital costs. The long term is not always taken into consideration.
In the private sector, negative perceptions of Life Cycle Approaches are an obstacle to their adoption. Firms may see them as a consulting or academic tool that is expensive, slow and not aligned with their immediate commercial interests. It can also be difficult to make a case for the reduction of environmental inputs and impacts identified as hot spots in the application of Life Cycle Approaches to their business and operations. This is particularly true when dealing with resources or impacts for which there is no current or anticipated market price, such as biodiversity and human health. It is much easier to make a business case for the conservation of resources that have a well-recognized economic value, such as oil, natural gas, or lumber. The conservation of resources is also important to companies where they are instrumental to their operations and it is in their best interest to preserve them to ensure continued access.
The private sector's actions related to Life Cycle Approaches are to a certain extent driven by judgment of their ability to fulfill their societal obligations as corporate citizens – to be environmentally responsible and earn a social licence to operate. This is determined by consumer behaviour and acceptance of corporate and product performance. Life Cycle Approaches are increasingly used for educating consumers and raising their awareness about the material and energy consumption related to goods and commodities. The federal government could play an important role by enabling the provision of accurate data and information to consumers. Consumer influence incents the private sector to be innovative in increasing its economic benefits while reducing the environmental impact attached to its products and commodities.
CAPACITY AND EXPERTISE
Many companies and governments lack the expertise to understand what Life Cycle Approaches are and how to apply them to their operations and decision making. The complexity of life cycle issues, including the lack of consistent terminology, can be daunting. When companies are able to grasp their application, they may not even have the financial resources to invest in these approaches to the degree desired or to sustain the investment over several years. Gaining access to knowledge and expertise, data and information systems, and processes needed to implement Life Cycle Approaches remains a basic challenge.
The degree to which this obstacle impacts the private sector is variable. Some larger companies have the expertise and capacity to adopt Life Cycle Approaches, while many SMEs do not.145 Yet, this capacity and expertise are needed for companies to respond to increasing business-to-business demands or international requirements for information based on Life Cycle Approaches.
In the public sector, knowledge of Life Cycle Approaches is increasing at the sector and technical level because governments have hired analysts and program staff with academic training in the area and have begun to apply these concepts. However, governments do not have a core of expertise that knows how to integrate this thinking and apply it more broadly and consistently to decision making. This includes evaluating trade-offs, auditing results, and allowing for future policy changes.
LIFE CYCLE DATA AND INFORMATION
Having access to reliable and useful life cycle data and information is essential to effectively adopt Life Cycle Approaches. Accurate, representative, transparent and adaptable life cycle data is necessary for both initiating and measuring the impact of Life Cycle Approaches. Access to standard information on life cycle impacts and costs of certain products and processes is needed to inform internal operation and policy decisions. This information is also needed to respond to business-to-business demands along the supply chain, as well as to comply with international regulations based on Life Cycle Approaches. But in many cases, data on environmental aspects is not as readily available as financial or economic data.
The most common type of data required is Life Cycle Inventory (LCI) data. It represents the inputs and outputs for a given product system incurred over its life cycle. High quality LCI data is lacking in Canada, which results in the use of less reliable Canadian data or dependence on European or U.S. data that may not reflect Canadian realities.
The private sector is sometimes reluctant to collaborate on LCI data development. Competition between companies and the need to protect personal confidential information can drive companies to avoid collaboration. This increases the individual costs of conducting analyses and implementing Life Cycle Approaches. The reluctance to collaborate needs to be overcome, and it can be done, for example, by averaging the data to avoid attribution to a particular company.
Information is also a problem in the public sector. Data related to the use phase of assets is a particular obstacle, especially within the GoC. There is a lack of monitoring and tracking of relevant costs and environmental data during the use phase of purchased commodities as well as for the operation and maintenance of many buildings. For other assets, whose environmental attributes and associated cost savings (which informed the procurement decision) may degrade over time, appropriate management during the use phase is critical. The GoC cannot live up to the principle of life cycle asset management without collecting performance information during the use phase. The procurement and disposal phase are more controlled and often involve employees specializing in those processes. In contrast, during the use phase a wide range of users and building occupants may interact with the asset. For buildings, there is the added dimension of ownership and lease arrangements leading to different incentive and management structures that may enhance or impede the achievement of environmental and cost-saving objectives.
The GoC also uses Life Cycle Assessment (LCA) in R&D projects, which requires access to LCI data. A lack of data can impact these projects, as illustrated in the following case study.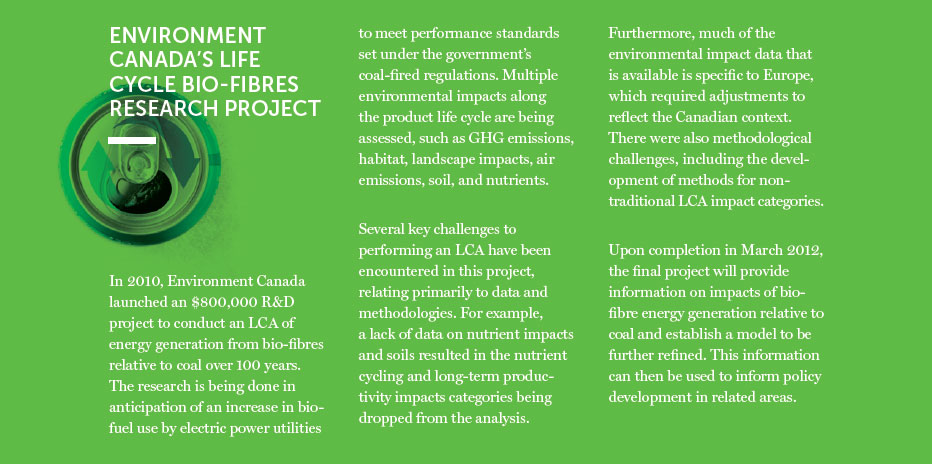 COMMON STANDARDS
At present, there is a substantial range of guidance documents available on the methodology and application of LCA. Some are of very high quality, providing detailed information, but a lack of a standardized approach leads to variable and incomparable results. The development of consistent guidance and standardized practices related to LCA would be a significant achievement in enabling robust and reliable decision making.
There is a lack of regionally specific Product Category Rules (PCRs), guidance on applying LCA in specific sectors, and work on regional impact categories in Canada. PCRs provide detailed standards for the application of LCA in the production of Environmental Product Declarations (EPDs – a type III environmental label standardized by ISO and based on LCA). In this case, PCRs for a specific product such as floor coverings – including carpet, hardwood or linoleum – are created by an independent entity called a Program Operator (often an industry body). These are then approved by ISO.
The PCR provides detail on how to conduct an LCA for the product, including where to set the boundaries which provides a basis on which to compare the life cycle impacts of products. The results are communicated in the form of an EPD. The number of products in the global economy is immense; thus the number of PCRs needed to cover the entire economy is overwhelming. Targeting the creation of PCRs toward areas where there is an immediate need, such as oil and gas, makes the task more manageable and helps set priorities.
ISO provides a framework for LCA, but it does not prescribe the detailed guidelines to ensure consistency in its application that are contained in PCRs. Without PCRs, LCA can be conducted in different ways making it difficult to compare the results across products or categories. Much of this inconsistency is due to disagreement on the extent of impact categories and the boundaries of the assessment. Some firms seek to limit the scope of industry-wide LCAs to better portray their product(s), while other firms wish to only disclose climate change impacts.146
This barrier is important in the debate over the life cycle impact of the oil sands, for example. Many studies exist that claim to detail these impacts, however, it is difficult to compare these studies as they are often based on different boundaries. A clear set of national and international standards would allow for such comparisons to be made with confidence in their validity and scientific basis.
There is a clear need to develop Canadian capacity and expertise to facilitate the implementation of Life Cycle Approaches within both the public and private sectors.
---
[145] Industry Canada, Canadian Manufacturers and Exporters, and Design Exchange 2009
[146] ICF International 2010